Description
There are currently seven types of user subscriptions, ranked from highest to lowest:
SCM Enterprise User
Standard Enterprise User
SCM Team User
Project Management Team User
CRM Sales Team User
Project Management Self Service User
SCM Self-Service User
Standard Self-Service User
The license used is dependent on the level of permissions assigned to the user. Locking or expiring a user account will free up any licenses related to it.
SAP is starting to roll out an updated license model with only three types of subscriptions but it's not fully available to production tenants at the time of this writing.
Steps
Checking License Consumption
License consumption can be seen in your ByDesign tenant under the "Service Control Center - User Subscriptions" work center view.
From the "Service Control Center - User Subscriptions" view you can easily check the number of "Licensed Users" against the number of "Assigned Users." If the number of assigned users exceeds the number of licensed users, this will be indicated by a red traffic light under the "Status" column. The number of excess users is detailed in the "Over Usage" column: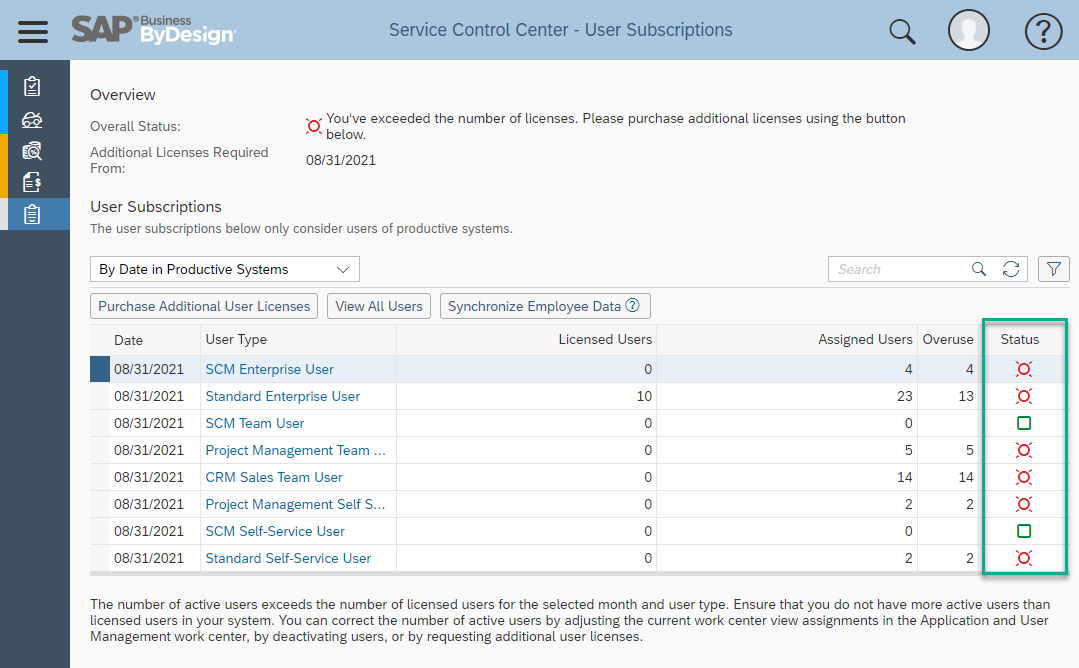 Note that if you've recently purchased more licenses it can take up to 30 days for them to reflect properly in the system. As long as your Account Manager has confirmed the purchase there should be no concerns from a contractual perspective.
You can display a list of all users that are assigned to a user type by clicking the user type link, and export to Excel if needed: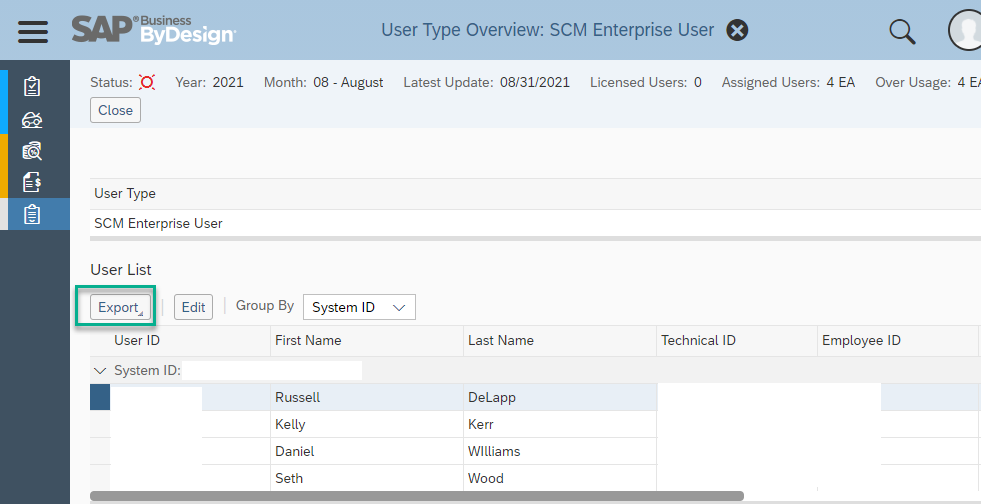 If you'd like to export a list of all users you can select the "View All Users" button from the main work center view to get a full list: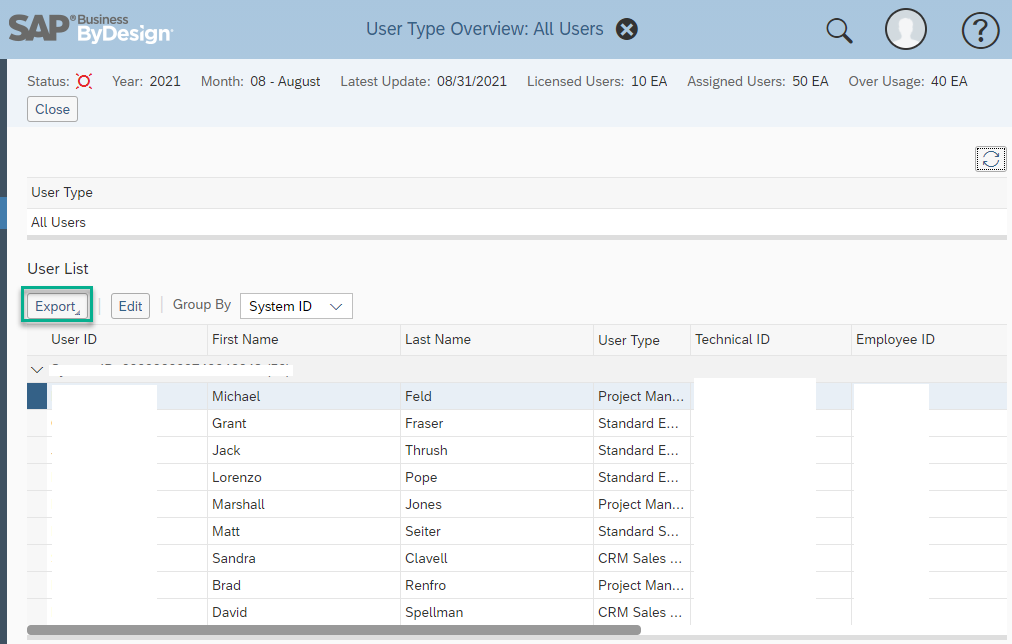 Reducing License Usage
To reduce license usage a user's permissions need to be reduced. Locking or setting a user account out of validity will free up all licenses related to their account.
User permissions can be modified under "Application and User Management - Business Users" by searching for the user, selecting their account, then clicking "Edit">"Access Rights":

From there you can see all of the possible permissions, the license associated with a permission, and if it's assigned to the user:

To lock a user account so that no licenses are consumed select their account and hit "Lock User" from the "Application and User Management - Business Users" work center view:

You can also set a validity date for an account so that it expires by a certain date. This is done by editing the attributes for the account:


Reminders/Recommendations
It is a joint effort with Navigator and SAP to make sure your license consumption is in compliance, since you are contractually obligated to only use licenses allotted to you. Please work with your Account Manager if you're in an over usage state and would like to purchase more licenses.