Issue: Problems printing, previewing, or exporting as PDF in Crystal Reports. Specific error messages you may encounter:
Database Login Failed:

Crystal Reports Error, "Failed to open the connection":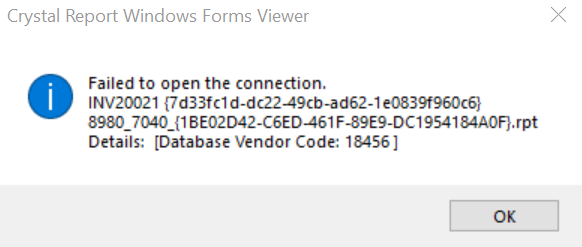 Resolution:
Open the document having the issue
Select 'Layout Designer' in the toolbar or

Administration > Setup > General > Report and Layout Manager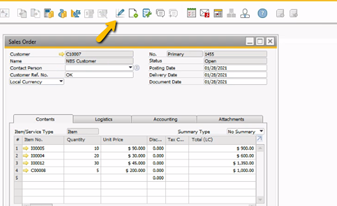 A: If you are fixing a Document Layout like for Sales Orders, select 'Manage Layout' and the select 'Edit' and continue to step 4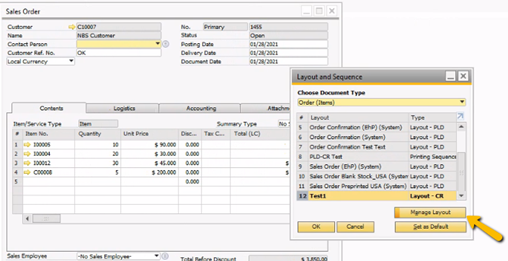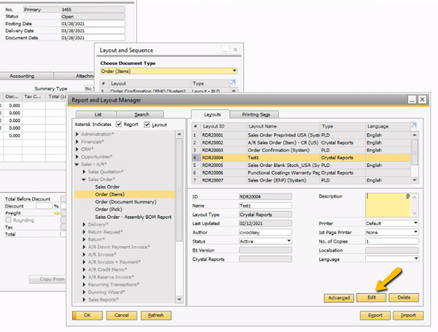 B: If fixing a Report like "Plant Tags 3x2_OProductionGroup_v2"
You can use the Menu Search bar at the top right (after selecting Menu from the drop down) and find it there



or go to Administration > Setup > General > Report and Layout Manager

From there you can go to Search​
Select Document Type to search for Sales Orders or Productions orders
or
Select Report to search for specific reports and then search for the report you need to fix.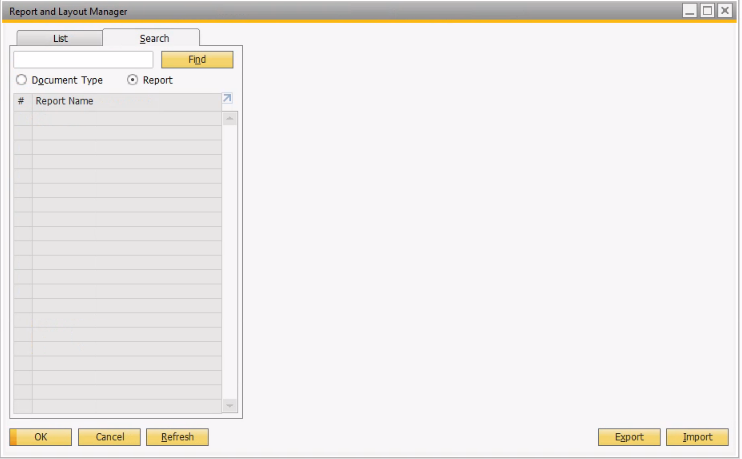 In this example you could search 3x2 click find, then select the report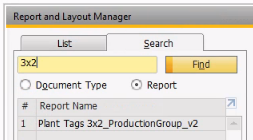 Select 'Edit' and continue to step 4

Wait for Crystal Reports to Open. **This step usually takes 30 seconds to 2 minutes but in rare instances can take up to 15 minutes. Please leave the window to load and do not close it out until then.
Select 'Add-Ins', then 'SAP Business One' and click 'Save'.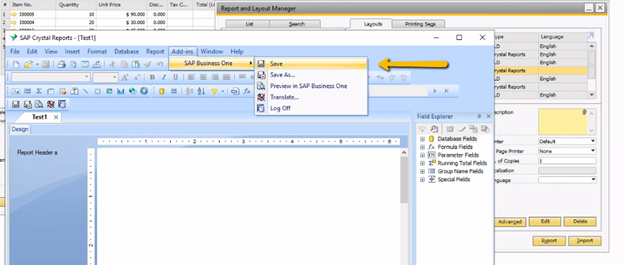 Wait for this to complete.
Close Crystal reports and try again.

Below is a video going through the steps above.


Resolution 2:
1. Follow steps 1 - 4 above from Resolution #1 to Edit the affected report.
2. Select "Database" from the ribbon, then "Set Datasource Location..."
3. Under "Replace with:" in the "Set Datasource Location" window that opens up, expand the selection that most resembles the selection in the picture below, named "ns210203sql". The name of this Database will change with time and with the customer, but you will always use the one which is string of numbers and letters without any underscores (i.e., _1, _2, etc.).
4. Find the Crystal Reports User Login and Password for the customer listed on the following sheet: https://docs.google.com/spreadsheets/d/1nF3O_EaSiQCkfQJSwe6jeo9QGCztmb4YSD7A95MmA8s/edit#gid=2081924218
5. A window titled "OLE DB (ADO)" will pop-up after you click the plus sign prompting you for additional information. Leave the server as it is and enter the Username and Password for the customer that you located in Resolution #2, Step 5 above, then click Finish.
6. Enter generic data for any windows that pop-up prompting for info.
7. Click OK on any boxes that pop-up indicating the database has been updated.
8. Save the File.