Hello, in this tutorial I'm going to go over creating custom formats for addresses in SAP. This focuses primarily on the Business Partner Master Data.
Let's begin in the Address tab of the Business Partner Master Data. For this customer I've entered in Navigator Business Solutions address. For fun, I've added this part to address.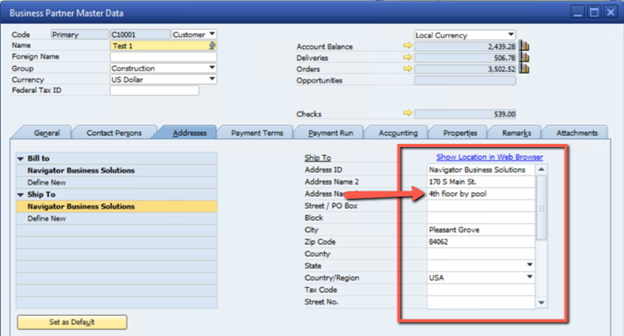 Now I'm going to create a sales quote, throw an item in there, and click on preview.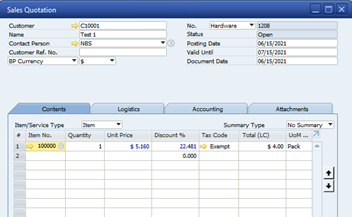 As you can see, it's not putting in that other part of the address.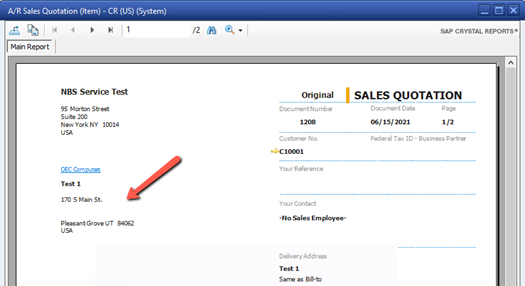 Now I could potentially fix this by going back to the address and just typing in numbers, clicking preview again to see what address line will get published.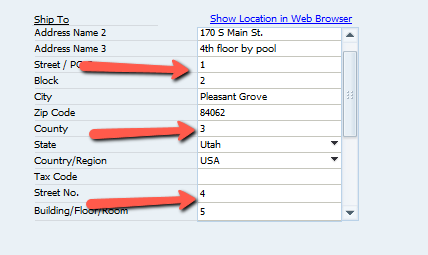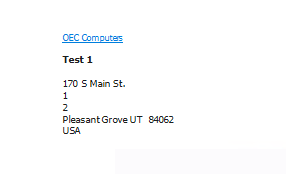 But that can cause some confusion so we're going to dive deeper into the address formatting feature in SAP Business One. First, you need to know what address format you are using. For this address, I have designated USA for this which means I will need to see how it's formatted even though it appears I have all these address lines available to me.
Admin-->Setup-->Business Partners-->Address Formats
Switch to Find mode with the binoculars, and look up USA.
This shows us what boxes will be included when you go to print the address. As you can see I don't have Address Name 3 included even though it's an field in the Business Partner Master Data.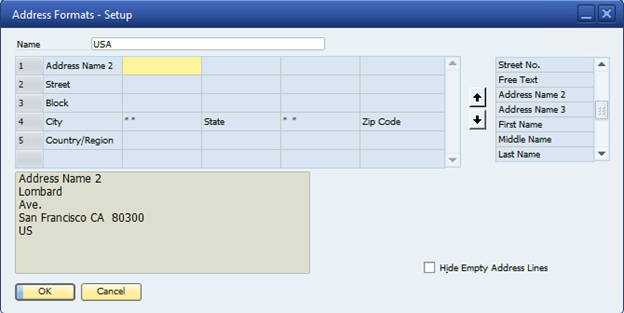 If I want that to show up I can do one of two things. I can add it in the next box over, which may cause long address lines and crowding on the page. Or I can right click, add Row, then in this selection box on the right side, I can find Address Name 3, double-click, and add it in.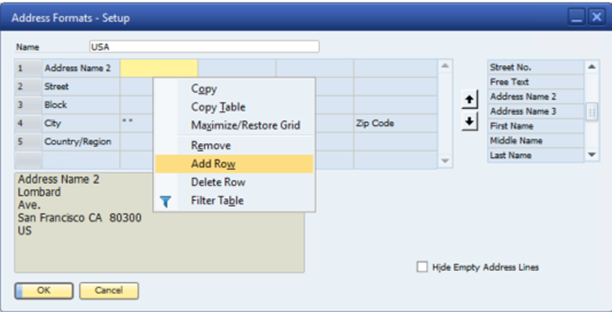 Us the arrows on the right side to move that new row up or down. You can do that for any row that you click to highlight.
Click update.

Now, when I go back to the address form in the Business Partner, I have the correct information added in, and when I create any document, it will have the full address in there.
You can do this for any address format I the list. You can also create new address formats if you need to include special information for an address.
As a tip, if you want a space between things, put in Free Text field, then " space ".
One last note. If you do create a custom address format, make certain it's assigned.
Go to Administration-->Setup-->Business Partner-->Countries-->Address Format
Scroll down until you find the Name of the country you are looking to use. Click on the address Format drop down and select the correct address format.
*If you created a new address format it would list it here.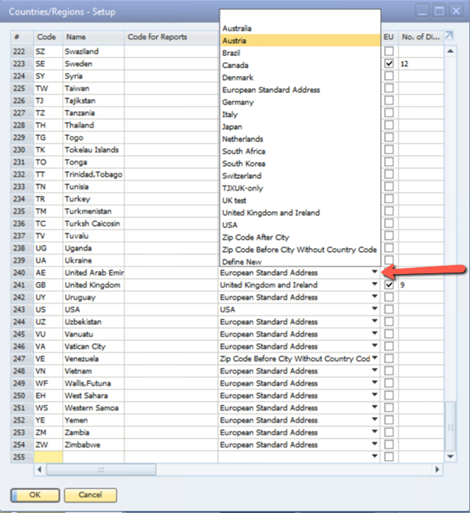 If you have any questions please reach out to support.